Adipoxi NV
EPOXY BONDING ADHESIVE
DESCRIPTION:
ADIPOXI NV is a 2-componet bonding agent, solvent free based on modified epoxy resins. Provides a perfect adhesion for new concrete.
USES:
When applied to old concrete surfaces provides an optimum bond for new concrete.
Can also be used as a bonding agent on concrete, mortar, iron and steel. Bonding agent between preformed elements.
COVERAGE:
0,4 – 0,8 kg/m2, depending on porosity of sustrate.
PACKAGING:
Pre-dosed 1 kg, 5 kg and 10 kg (A+B).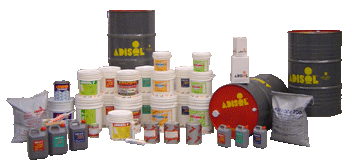 ---
Jacinto Rosso 627 (B1834BQM) - Témperley - Buenos Aires
República Argentina
Tel./Fax: 4292-8074 (líneas rotativas)
info@adisolsaic.com